Part 2 of a Three Part Series on RSS Technology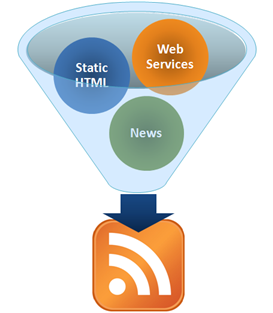 During Part 1 of the VitaminCM.com series on RSS "Master Online Information Through the Magic of RSS Technology" I covered what RSS is and how it works for sites that provide an RSS feed. RSS can do a lot more than just bring your favorite blog posts to your feed reader. During Part 2, I'm going to show you how to get data out of a web site that does not provide an RSS feed. I'm also going to show you how to use combine multiple sources of data from different web sites and combine it into a single RSS feed.
Using RSS to Get Data from Pages that Don't Provide an RSS Feed
There is a mountain of valuable data out there on the web that would be great to get  sent to your RSS reader. Unfortunately, for a variety of reasons, the sites with the data don't always provide RSS feeds. Well, fortunately for you, there is a way to get this data sent to you in an RSS feed.
There is a free service called Dapper, which allows you to grab data from web sites and turn it into a dynamic RSS feed. Let's say you're looking for a new house. Realtor.com has millions of listings all over the place. It would be great to open up your feed reader every morning and see a listing of the newly listed homes that met your requirements. Too bad this is not available.
With Dapper, you can create just such a feed in a few minutes using the following steps:
Set up a free account at Dapper.net
Get the URL for page(s) you're turning into a feed (Run a search on Realtor.com for homes in the town, price, and size that you need. Copy the URL from the Results page.)
Create a new "DAPP" in Dapper (This is their clever name for your custom RSS feed.)
Paste the copied URL into your DAPP
Pick the content that you want from the Results page.
Turn this content into them into data fields.
Create your feed.
Add the feed to your feed reader.
The video below walks you through every step of the process.
Working with RSS Data
There are a couple of nice tools out there that allow you to work with the data from RSS feeds in interesting ways.  One of the most interesting tools is Yahoo Pipes. Yahoo Pipes allows you to take data from internet sources and use your own (or other people's) logic to do all sorts of interesting things. I want to take a number of feeds and combine them into one new feed. I use several services to find and save interesting content on the internet: StumbleUpon, Digg, and Del.icio.us are three of my favorites. I want to create a feed that takes my three most recent bookmarks from all three sites and displays them.
With Yahoo Pipes, you can create just such a feed in a few minutes using the following steps:
Create a free account at Yahoo Pipes.
Create a new Pipe.
Get the RSS feed URLs that you want to combine.
Use Yahoo's existing object that reads each RSS feed to pull in the data.
Sort each feed by date and limit it 5 items.
Combine the three feeds into one new feed using Yahoo's "Union" object.
Sort the combined feed by date.
Save and Publish the Pipe.
Add the new feed to your feed reader.
The video below walks you through every step of the process.

Stay Tuned for Part 3 of the RSS Series
During Part 3, we'll take the content from our fancy new RSS feeds and display it inside of a web page.
Did you Like this Article?
Sign up for free updates from VitaminCM.com?


See some of the other places where you can connect with me out there in the wilds of the internets.