A Look at the Past, Present, and Future
I was looking at some information in my site's dashboard the other day and noticed that I was at my 99th post. Well, that would make this my lucky 100th article. I started VitaminCM.com on May 16th, 2007 while I was away at a Training & Development convention. That makes 21 months, which equals 4.7 articles per month or 1.1 per week.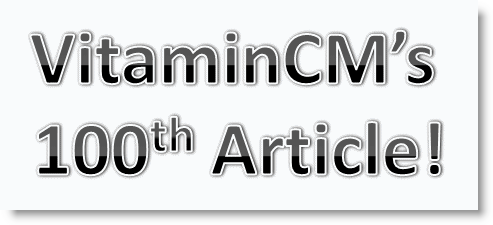 My Favorite Articles
Every now and then I crank out a decent article. Here are a few that I really liked.
Easy Way to Download TV Shows from the Internet
How to Download TV Shows from the Internet (Part 2)
10 Worst TV Spin-Offs of All Time
10 Best TV Spin-Offs of All Time
Reusing an Old PC as a Server Part 1
Reusing an Old PC as a Server (Part 2)
Awesome Adobe Acrobat Alternatives that Will Make Love to your Computer
See How to Upgrade Your Career in a Recession Using Technology
How to Set Up A Testing Server on Your PC
What was I thinking?
Sometimes I think I'm onto something and well, I'm really not. Here are some of my more questionable calls.
What's the Point to Unlocking the iPhone?
How to Survive a Zombie Attack this Halloween
Driving in a Winter Wonderland – Christmas Lights Overload
The Best Horror Punk Lyrics Ever!!!
What have I learned?
I've learned a lot over the last two years. First and foremost, I'm a lousy proofreader. If I ever have a budget to hire anyone, it will surely be a proofreader. I need to take my time to right a thorough article, even if it means getting it out a little slower. Probably the most important thing I learned is that I need to write something useful. People don't have time to waste, so I need to provide useful tips, reviews, or opinions.
A couple of other things that I learned is that I have to hustle, hustle, hustle. That involves two things: reading a lot and meeting a lot of people. I'm pretty good at the reading part, but I don't get out to events enough. Gotta work on that.
Where am I going?
I plan to do more tutorials and productivity articles. I'm also going to do product reviews of whatever gadgets come into my life (given this ginormous budget). If you have anything that you would like to read about or see how to do, please write it in the comments or email me. You can find my information on the Contact page.
So, thanks for reading and if you really like it, tell a friend.
Subscribe to the VitaminCM.com Feed
Get free updates from VitaminCM.com

Subscribe to RSS Feed

Subscribe via Email

Subscribe to Comments
Get the VitaminCM.com Podcast

Subscribe to the VitaminCM Podcast in iTunes
Get More Updates
See some of the other places where you can connect with me out there in the wilds of the internets.