Wine, Food, and a Marketing Lesson
I'm a huge fan of Gary Vaynerchuk's WineLibrary.TV podcast. The podcast's goal is "Changing the Wine World" and it's doing just that. He started the podcast as a way of plugging his store (Wine Library) and he's turned into an A-list internet podcaster and marketer. I love Gary's passion and energy for whatever he does. Weather it's his wine or his beloved New York Jets he does everything at top speed. I like learning about the wine, but I love studying how he approaches his business.

I was watching the podcast on Saturday morning when Gary announced that they were having a huge sale at the store that afternoon. He also mentioned that they were filming a new episode during the event and that fans were welcome to stop by and watch. Perfect, I had company coming over for dinner, so I needed some wine and snacks. 
I looked up the directions and headed out.  I new it was somewhere in New Jersey, but it ended up being only 20 minutes from my house (586 Morris Avenue | Springfield, NJ 07081).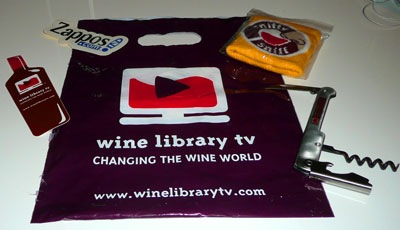 He wasn't kidding about the huge sale, we couldn't even get into the parking lot. They actually had an off-duty police officer directing traffic. When we finally made it into the store, it was well worth the wait. The downstairs had several aisles of neatly organized and diverse wine. I was amazed at how many staffers were available on the floor. Every person I spoke with was happy, enthusiastic, and very helpful. There was also a nice delicatessen and cheese shop downstairs. …And yes, we did indulge in numerous delicious samples.
The upstairs was catwalk style, overlooking the downstairs.  As if my impromptu lunch was not enough, there were about a dozen more tables of gourmet goodies to sample upstairs. I had cheeses, crackers, spreads, and deserts that were amazing.
I finally worked my way around to the corner of the store where they were filming the show. There was quite a crowd around as Gary reviewed several wines. After they were done filming, Gary stuck around to answer questions from the audience and samples of the wines from the show were passed around. (Full disclosure: the one I had was not that good.)
So What Did I Buy?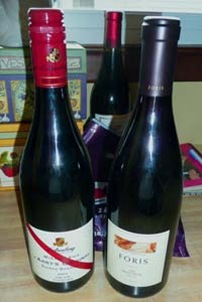 Finding something to buy was not the hard part, leaving the store without spending my paycheck was. We picked up the following treats to enjoy with our company:
A bottle of 2006 Foris Pinot Noir from Oregon for the wife.
A bottle of 2004 d'Arenberg Shiraz/Grenache blend from Australia for myself.
We also picked out a few incredible blocks of cheese for later.
They gave a branded goodie bag with a wristband (Gary's trademark), a branded stainless steel corkscrew, a Wine Library sticker, and a Zappos.com sticker (must be a sponsor). This is part of why Gary Vaynerchuk is a marketing guru. All of the free goodies were branded promotion pieces.
What I took away from the experience of seeing a true A-List marketer doing his thing was very helpful. Every bit of the experience was expertly crafted to make the customer feel great. The staff was not only adept, but you can tell that they love the products and their jobs. There was a lot of enthusiasm and energy that made me want to come back. The food and booze didn't hurt either.
So if you're near Springfield, NJ stop in and see what I mean. Bring an empty belly and a full wallet.
Subscribe to the VitaminCM.com Feed
Don't Miss the Next Article

Subscribe to RSS Feed |

Subscribe via Email |

Comments
Get the VitaminCM.com Podcast

Subscribe to the VitaminCM Podcast in iTunes.
Get More Updates
See some of the other places where you can connect with me out there in the wilds of the internets.