The Good, the Bad, and the Hippies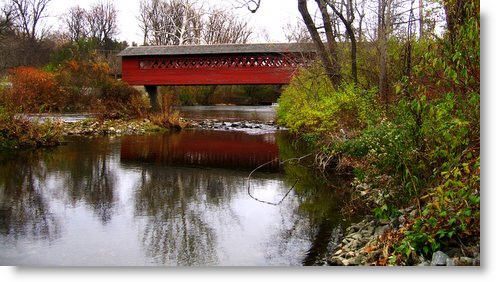 My wife and I have been a little stressed out lately and decided that we needed a weekend away to unwind. We chose a 4 day weekend in a Bed and Breakfast in Manchester, VT. Sounds lovely and peaceful, right? Think again. Run down, bug infested, ill appointed lodgings along with innkeepers with no customer service led to a craptacular disappointment.
Drive Up to Vermont
Most of the way up the New York Thruway the leaves were at their peak of color. It was really spectacular. If you live in the North Eastern United States, you really must take a long road trip in the peak leaf season. What a beautiful sight!
Manchester
Manchester is an amazing town. There is a mix of high-end outlet shopping, colonial architecture, and country charm. The Northshire Book Store is an impressive book store in the middle of town. Every time you think you reach the end, their is another nook filled with quirky books. There is also a cafe upstairs that has live music.
There are some beautiful old Inns and B&B's that are close to town.
Hotel (or should I say Blowtel)
My wife ignored my recommendation and selected the Manchester Highlands Inn B&B for our lodgings. What a mistake. This place stunk to the high heavens, the pink shag carpet from the 70's was worn and filthy, and there were multiple species of large bugs in the bed rooms. Nasty! Do not stay at this dump.
Weston, Vermont – Old Country Charm
The coolest thing in Weston is the Vermont Country Store. This place is like a step back in time. You can get food, clothes, old and new toys along with fun touristy stuff. If you are driving through Southern Vermont, you really should stop in. You'll be glad you did. The coolest thing in there was an Olde Fashioned Peep Show machine. (Get your mind out of the gutter.) It takes an old silent movie and puts the frames on paper. When you crank the handle, the pictures come to life to make the movie. See the video below.
Grafton, Vermont – Covered Bridge and Quaintness
There is not a lot to see in Grafton. It's just a typical small Vermont town. The highlight of the town for me was the covered bride. I never saw one up close before. It was pretty cool. If you like them, there are plenty scattered all over Vermont.
Poultney, Vermont – College, Hippies, and Pot
My cousin Ryan is a Junior at Green Mountain College in Poultney, Vermont. We stopped up to see him and take him out for dinner. We met my cousin Ryan at his college. We took him and a friend out to dinner with us. We had a great time. He ordered a beer and the cute, stoned waitress asked "Are You 21?" To which he replied, "Yeah!" She said, "OK" and brought him his beer. He's 20, but who's counting. Pretty rigorous ID program up there in VT. A good time was had by all!
Bennington, Vermont – Beer and Bridges
On the way home, we stopped for lunch in Bennington, Vermont. That is a nice town. It feels "real" if you know what I mean. The people there don't seem like they are from a New England postcard, rather they are just regular people who live there.
We ate lunch at the Madison Brewery Company, which is a wonderful brew pub on the main strip. Good food, atmosphere (we sat next to 8 firemen), and of course beer.
On the way out of town, I saw another covered bridge. This time, it was the mythical red one of post card and calendar lore. Beautiful
Highlights
Vermont Country Store in Weston, Dinner with my Cousin Ryan in Poultney, and of course All of the Beautiful Vermont Countryside.
Low-lights
The filthy Bed & Breakfast. DO NOT STAY AT THE MANCHESTER HIGHLANDS INN, in MANCHESTER, VT!!! IT SUCKS!!!
Sights and Sounds From Our Trip
Pictures

Subscribe to RSS Feed |

Subscribe to Comments |
Subscribe via Email
Other Articles You May Like
What's the Point to Unlocking the

iPhone

?
Who Else Wanted More From the

iPod

Touch?
How to Download TV Shows from the Internet (Part 2)
Is Microsoft Office in Danger of Being Dethroned?
Reader Poll - Roadside Memorials: OK to Document?
See How Easily You Can Embed a Map on Your Site
The Easy Way to Download TV Shows from the Internet
How Much Social Networking is Too Much?
The Best Rap Lyrics Ever!!!
Hottest Women in Tech
Get More Updates
See some of the other places where you can connect with me out there in the wilds of the internets.