World Domination is Under Way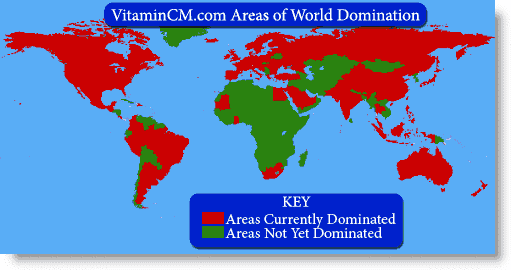 I was just looking at some of my stats for visitors to this site and I saw some pretty amazing information. So far, I have had at least one visitor from over 70 countries around the world. That blew me away.
As a tribute to all of my visitors from across the globe, I would just like to say:
Welcome Aboard and Thanks for Stopping By!
I put together a list of all every visitor's country. If your country is not listed, it is probably due to my web stats system. So, if you don't see yourself on the list, send me and email at cm@vitamincm.com or leave a comment below.
Countries Receiving Most Favored Nation Status:
Argentina (Don't Cry for Me, but do read a few articles.)
Aruba
Australia (G'day Mates!)
Austria
Belgium
Bermuda
Bosnia and Herzegovina (That's two for the price of one!)
Brazil
Bulgaria
Canada
China
Colombia
Costa Rica (I'm dying to go on an Eco Vacation there.)
Croatia
Cyprus
Czech Republic
Denmark
Dominican Republic
Egypt
Estonia
Finland
France
Germany
Ghana
Greece
Guatemala
Hong Kong
Hungary
Iceland
India
Indonesia
Ireland
Israel
Italy (Good to see my Peeps supporting me.)
Japan
Jordan
Latvia
Lithuania
Luxembourg
Malaysia
Maldives (Seriously, Maldives? wow!)
Mauritius
Mexico
Moldova
Netherlands
New Zealand
Norway
Pakistan
Peru
Philippines
Poland
Portugal
Romania
Russia (Welcome aboard comrades.)
Saudi Arabia
Singapore
Slovenia
South Africa
Spain
Sweden
Switzerland
Taiwan
Thailand
Trinidad and Tobago (If you're from Tobago, send me an Email. I've never met anyone from Tobago.)
Turkey
Ukraine
United Arab Emirates (Only the coolest country in the world)
United States of America
Uruguay
U.S. military (I support the Troops and they support me right back.)
U.S. Virgin Islands (I think that might be Tim Duncan who clicked.)
Yugoslavia
Thanks Again, and keep reading!!!

Subscribe to RSS Feed |

Subscribe to Comments |

Subscribe via Email
Other Articles You May Like
What's the Point to Unlocking the iPhone?
Who Else Wanted More From the iPod Touch?
How to Download TV Shows from the Internet (Part 2)
Is Microsoft Office in Danger of Being Dethroned?
Reader Poll – Roadside Memorials: OK to Document?
See How Easily You Can Embed a Map on Your Site
The Easy Way to Download TV Shows from the Internet
How Much Social Networking is Too Much?
Get More Updates
See some of the other places where you can connect with me out there in the wilds of the internets.