Power Up your Computer With Versatile Utilities
Overview: Here is a list of tools that will add tons of functionality to your Windows or Mac computer. Most of them are free too!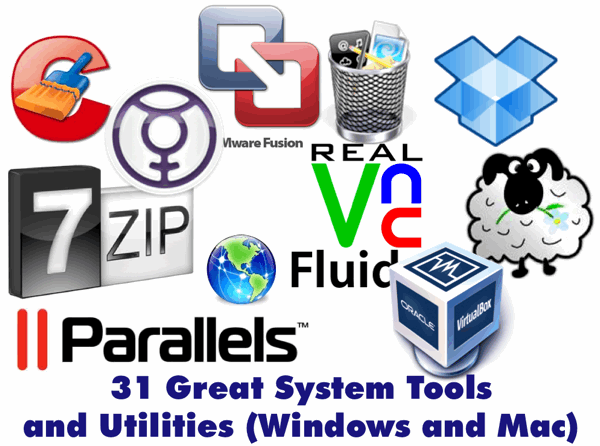 The Missing Toolbox
Windows and Mac include a bunch of system tools and utilities right out of the box. Still, there are plenty of things that they both miss. Here is a roundup of tools that you can install on your machine to give it tons of extra capabilities and functionality. They are broken out by category and include price (most are free) and links to where you can get them. While I listed a bunch of my favorites, this is by no means the last word on this subject. I would love to here what some of your favorites are in the comments below. Please include the cost and OS with your comments.
Enjoy!
Application Launchers
These guys will help you open up the programs and files that you need in the most convenient way.
Alfred – Price – Free
Alfred is a quicklaunch application for Mac OS X, which aims to save you time in searching your local computer and the web. Not quite as handy as Quicksilver or Launchy, but still cool. Operating System – Mac
ObjectDock – Price – Free
ObjectDock is a Windows-based clone of the Mac's Dock. It lets you organize shortcuts, programs and running tasks into a Dock. It's pretty handy, however not quite as nice as RocketDock (IMHO). Operating System – Windows
RocketDock – Price – Free
RocketDock is a very nice Mac OS X dock clone. It provides a clean interface for shortcuts to launch apps and files. Each item is completely customizable allowing for better productivity and accessibility. Operating System – Windows
Fluid – Price – Free
Fluid lets you create a Site Specific Browser (SSB) out of any website or web application, effectively turning your favorite web apps into desktop apps. I love it for Pandora, Gmail, and RememberTheMilk. Operating System – Mac
Launchy – Price – Free
Launchy is a free Windows and Linux utility designed to help you forget about your start menu, the icons on your desktop, and even your file manager. Launchy indexes the programs in your start menu and can launch your documents, project files, folders, and bookmarks with just a few keystrokes. Pretty handy for quickly launching apps, but still not as nice as RocketDock. Operating System – Windows
PortableApps – Price – Free
PortableApps.com is the world's most popular portable software solution allowing you to take your favorite software with you. A fully open source and free platform, it works on any portable storage device (USB flash drive, iPod, memory card, portable hard drive, etc). With millions of users all over the world and a full collection of open source software as well as compatible freeware and commercial software and partners in the software and hardware industry, PortableApps.com is the most complete solution for life on the go. Operating System – Windows

QuickSilver – Price – Free
A unified, extensible interface for working with applications, contacts, music, and other data. Operating System – Mac
SecondBar – Price – Free
SecondBar allows you to have more than one menubar in Mac OS X. This is useful if you have multiple monitors connected to your mac. Operating System – Mac
Archive / Zip Tools
If you need to zip or unzip files on your computer there are some great options.
7-Zip – Price – Free
7zip is an source and free archive utility that runs on Windows. 7Zip is the smallest, fastest, free-est archive tool available, Period. Operating System – Windows
Zipeg – Price – Free
Zipeg – free utility to browse and extract (unzip) zip, rar , tar, tgz and other archives for Mac. This is my favorite archive utility for the Mac. Operating System – Mac
File Synchronization Tools
If you work on more than one computer then you need to keep your stuff in sync. Here are a couple of tools that are very handy.
DropBox – Price – Free / Paid
Put your files into your Dropbox folder on one computer, and they'll automatically appear on any of your other computers that also have Dropbox installed (Windows, Mac, and Linux too!). You can even download Dropbox apps for your smartphone or mobile device (iPhone, iPad, Android, and Blackberry). Everything in your Dropbox is available from the Dropbox website, too. Operating System – Windows, Mac

Syncback – Price – Free / Paid
SyncBack is a freeware program that helps you easily backup and synchronize your files between hard drives, CDs, CompactFlash, FTP servers, network shares and Zip archives. This is a great way to sync folders on your local machine synced with other machines or backup devices. Operating System – Windows
Disk Management
Managing your
Defraggler – Price – Free
Defraggler enables you to quickly and simply defrag the files you want to, without having to process the whole drive. Simply run it, select the file and defragment in seconds. No more struggling with the Windows defragmentation tool! Works faster and better than the built in Windows Defragmentation tool. Operating System – Windows
ImgBurn – Price – Free
ImgBurn is a lightweight CD / DVD / HD DVD / Blu-ray burning application. ImgBurn supports a wide range of image file formats. It can burn Audio CDs from any file type supported via DirectShow / ACM. You can use it to build DVD Video discs (from a VIDEO_TS folder), HD DVD Video discs (from a HVDVD_TS folder) and Blu-ray Video discs (from a BDAV / BDMV folder) with ease. Operating System – Windows
InfraRecorder – Price – Free
InfraRecorder is a free CD/DVD burning solution for Microsoft Windows. It offers a wide range of powerful features; all through an easy to use application interface and Windows Explorer integration. This is my favorite disk burning tool for Windows. Operating System – Windows
Remote Desktop Connection
If you need to control/access one computer from another one, you'll need a tool to help out. These are ones that I really like.
RealVNC – Price – Free
VNC is remote control software which allows you to view and fully interact with one computer desktop (the "VNC server") using a simple program (the "VNC viewer") on another computer desktop anywhere on the Internet. The two computers dont even have to be the same type, so for example you can use VNC to view a Windows Vista desktop at the office on a Linux or Mac computer at home. Operating System – Windows, Linux
TeamViewer – Price – Free
TeamViewer lets you establish a connection to any PC or server within just a few seconds. You can remote control the PC of your partner as if you were sitting right in front of it. New features such as VoIP, webcam and application selection will give you an even better, easier and faster desktop sharing experience. Operating System – Windows, Mac, Linux
System Maintenance
If you have a computer, you have some glitches. Here are a few apps that help keep everything running smoothly and fix those annoying bugaboos.
AppCleaner – Price – Free
AppCleaner is a small application which allows you to thoroughly uninstall unwanted apps. Installing an application distributes many files throughout your System using space of your Hard Drive unnecessarily. AppCleaner finds all these small files and safely deletes them. Don't uninstall without it! Operating System – Mac
Ccleaner – Price – Free
CCleaner is a system optimization/cleaning tool. It removes unused files from your system, allowing Windows to run faster and freeing up valuable hard disk space. It can also clear your internet history and act as a fully featured registry cleaner. CCleaner is the quickest, easiest way to keep your PC running properly. Operating System – Windows
CleanMyMac – Price – Free
CleanMyMac allows enjoying smooth system performance combining such vital features as Clean Caches, Application Uninstallation, Quick and Secure Erase, Slim Universal Binaries, Clean Unneeded Languages, Logs Rotation, and Killing Trash Left From Buried Applications. Operating System – Mac
Ncleaner – Price – Free
nCleaner contains an advanced system and application cleaner with over 90 cleaning items available, a Registry Cleaner, a Tweak Manager, an advanced Startup Manager, a Junk Finder, a Free Space Shredder, a System Resource Monitor, a System Adviser, supports logging and statistics as well as advanced Scheduling. It's very similar to Ccleaner and works great. Operating System – Windows
Onyx – Price – Free
OnyX allows you to verify the Startup Disk and the structure of its System files, run miscellaneous tasks of system maintenance, configure some hidden parameters of the Finder, Dock, Dashboard, Exposé, Safari, Login window and some of Apples own applications, it deletes caches, removes a certain number of files and folders that may become cumbersome and more. This is my favorite system optimization tool for the Mac (free or paid). Operating System – Mac
Operating System Virtualization
If you need to run applications from one Operating System on another machine, than you'll have to use virtualization tools. These tools allow you to run a virtual operating system inside of another physical one.
Parallels – Price – $80
Parallels Desktop gives Mac users the ability to run Windows, Linux or any other operating system and their critical applications at the same time as Mac OS X on any Intel-powered Mac. Definitely the best choice for running Windows on a Mac. You get what you pay for. Operating System – Windows, Mac
VirtualBox – Price – Free
VirtualBox is a powerful x86 & AMD64/Intel64 virtualization product. It allows you to run multiple operating systems on your computer, at the same time. Not the best, not even close, but it is FREE. Operating System – Windows, Mac, Linux
VMWare Fusion – Price – $49
Seamlessly run your favorite Windows applications and devices, on any Intel-based Mac. Built from the ground up for the Mac, VMware Fusion is the easiest way to switch to Mac—letting you bring all of your Windows applications with you, making the most of your Windows software investment, while providing the perfect safety blanket for the switch. Better than VirtualBox, cheaper than Paralles. Operating System – Mac
Security
Viruses, spyware, and other crap are the bane of modern computing.  Here are a few tools that I use to keep it safe and clean.
Ad-Aware – Price – Free / Paid
Ad-Aware is an anti-malware program developed by Lavasoft that detects and removes spyware or adware on a users computer. It detects spyware, viruses, dialers, Trojans, bots, rootkits, data miners, aggressive advertising, parasites, browser hijackers, and tracking components. Lavasoft offers a free, downloadable version called Ad-Aware Free, and three paid-for products called Ad-Aware Plus, Ad-Aware Pro and Ad-Aware Enterprise 2.1. Operating System – Windows
Spybot-Search & Destroy – Price – Free / Paid
Spybot – Search & Destroy detects and removes spyware, a relatively new kind of threat not yet covered by common anti-virus applications. Free for private use. Companies and institutions need to buy licenses for the commercial versions of our software. Operating System – Windows
AVG – Price – Free / Paid
AVG Free provides basic antivirus and antispyware protection for home users. Virus database updated every day. Includes innovative LinkScanner for web-protection. This is my favorite Windows Antivirus of all time. Operating System – Windows
KeePass – Price – Free
KeePass is a free open source password manager, which helps you to manage your passwords in a secure way. You can put all your passwords in one database, which is locked with one master key or a key file. So you only have to remember one single master password or select the key file to unlock the whole database. Operating System – Windows
LastPass – Price – Free
Lastpass is a secure, browser-based password manager that supports Firefox, Internet Explorer, Chrome, and Safari. Sync your passwords between multiple browsers and computers. With LastPass you can: -Create strong passwords, knowing you only have to remember one. -Log into your favorite sites with a single click. -Fill forms in a second. -Securely share logins and notes with friends and let others share with you. Operating System – Windows, Mac, Linux
RoboForm – Price – Free
RoboForm is a proprietary software password management program that syncs passwords between multiple computers. It offers a web form filler that automates password entering and form filling on Internet Explorer, Firefox, Chrome, and Safari, as well offering manager apps on mobile platforms like iOS, Android, Blackberry, Palm, and Symbian. The free version of Roboform limits you to saving 10 passwords. Operating System – Windows, Mac, Linux
Malwarebytes – Price – Free
Malwarebytes Anti-Malware is considered to be the next step in the detection and removal of malware. In our product we have compiled a number of new technologies that are designed to quickly detect, destroy, and prevent malware. Malwarebytes Anti-Malware can detect and remove malware that even the most well known anti-virus and anti-malware applications fail to detect. Operating System – Windows
Did you Like this Article?
Why not get free updates from VitaminCM.com?
Get More Updates
See some of the other places where you can connect with me out there in the wilds of the internets.