Make Your Blog Come to Life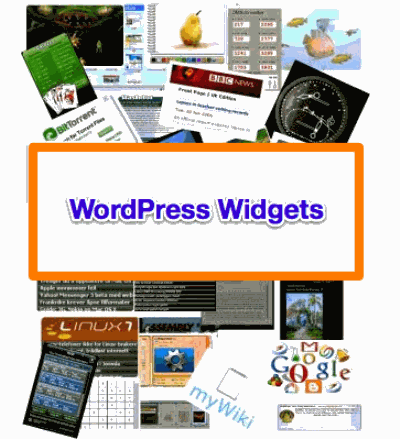 When you set up your WordPress blog, you select a Theme to control the look and feel of the site. WordPress themes create a sidebar (or two) on the right and/or left side of your screen. You can add further styling, information, and functionality to your site using Widgets.
WordPress Widgets are designed to provide a simple way to arrange the various elements of your sidebar content without having to change any code. The Widgets Panel explains how to use the various Widgets that come delivered with WordPress, and the Widgets page at Automattic explains how to 'widgetize' themes and plugins.
Adding Widgets to Your Site
You can add, remove, or modify Widgets from the Site Administration page (Dashboard).
Log In to your WordPress site.
Click on the Widgets link under the Appearance heading along the right side of the page.
This will open the Widgets Panel.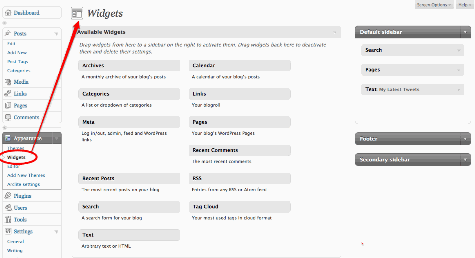 You will see all of the standard Widgets in the center of the page.
Your site's Sidebar(s), and Footer will be represented on with containers on the right side of the screen.
Determine the Widget(s) that you want to add to the Sidebar.
Drag the Widgets (one at a time) to the Sidebar container and drop them.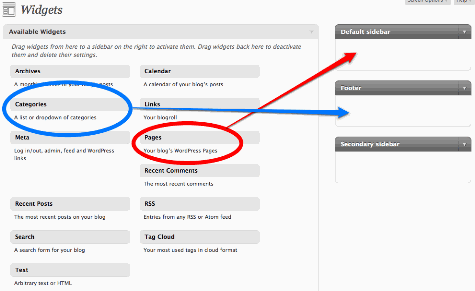 You can drag Widgets above or below other Widgets in the Sidebar container to rearrange their order.
Determine the Widget(s) that you want to add to the Footer and repeat the previous process.
Go to your site and refresh the page to see what the new Widgets look like.




Removing Widgets from the Sidebar and Footer

You can remove Widgets just as easily as you added them. If you want to remove them and any settings that you configured, drag and drop them in the Available Widgets container in the middle of the page. If you want to remove them, but save the configured settings (for future use) drag and drop them in the Inactive Widgets container immediately below the Available Widgets container.
Adding Custom Widgets to Your Blog
While there are several Widgets that come configured with your WordPress installation, they are hardly "all encompassing". You can add custom Widgets to your blog in two ways:
Paste HTML code into the Text Widget
Install Plugins that are specifically meant to work as Widgets (covered in next article)

Using the Custom Text Widget

The Text Widget allows you to display any HTML code (including Flash and Javascript) in your site's sidebar.
Click and drag the Text Widget to the Sidebar container.
The Text Widget will open up allowing you to type in a Title and paste in HTML code.
Paste in the HTML code that you wrote from scratch or obtained elsewhere.
Click the Save button.

 



View the Entire Process in a Video Tutorial

[display_podcast]




There are a lot of interesting things that you can do with the Text Widget. Some things that I have see include:

YouTube Videos
Flickr Slideshows
Advertisements
Twitter Feeds
RSS News Feeds

Widgets are a great and simple way to add extra content and functionality to your site. If you have any other good ideas on using WordPress Widgets, let me know in the Comments below.

See the Rest of This Series

This is the 4th article in a 7 part series of tutorials on Creating a WordPress Blog. View the rest of the series:

Publishing WordPress Articles Using Third Party Applications

Subscribe to the RSS feed to receive free updates.

Subscribe to VitaminCM.com for Free

Get free updates from VitaminCM.com

Subscribe via RSS Reader

Subscribe to Comments

Get the VitaminCM.com Podcast

Subscribe via iTunes

Subscribe via YouTube

Connect with Me on the Web

Follow me on Twitter

Friend me on YouTube

Friend me on StumbleUpon

Friend me on Facebook

Friend me on Digg.com

Share bookmarks on Delicious

Share music with me on Last.FM

Share pictures on Flickr
Get More Updates
See some of the other places where you can connect with me out there in the wilds of the internets.