Complete Guide to Seamlessly Using Multiple Computers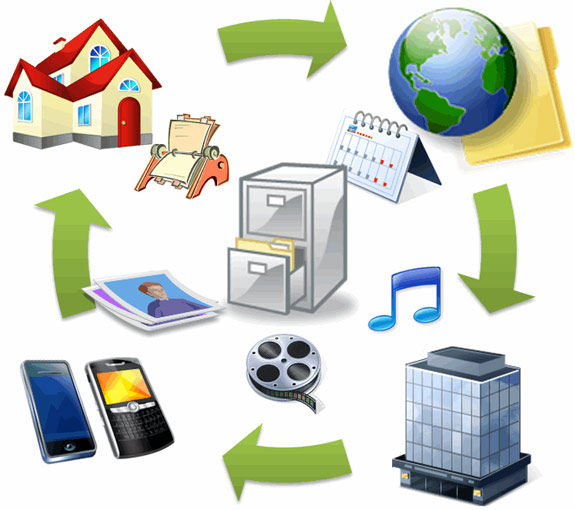 Most people work on more than one computer during the course of their day. A typical person might have their home computer, work computer, and some type of smartphone that offers increasing capacity, connectivity, and power. If you do use more than one computer with some combination of Windows, Mac, and Linux and Smartphone than you know how difficult it is to have all of your stuff when and where you need it. I'm going to show you a variety of tools and strategies to help you have everything you need, when and where you need it. As always, my emphasis will be on using as many free applications and services as possible.
I keep my stuff accessible by using a few important strategies:
Keep your data in the Cloud
Rely heavily on Web Applications
Integrate your desktop applications with Web Services
Many of these techniques can be a little involved, so I'll refer you to articles that cover each topic more in depth where necessary.
Keep Your Data in the Cloud (whenever possible)
Store as much of your data in the cloud as possible. If you have your office files, pictures, music, calendar, contacts, etc. as possible stored or backed up on web services, then you will be able to access them from or sync them to any computer and most smartphones.
There are a lot of ways to use the cloud, while you can spend yourself into bankruptcy, there are plenty of great free services to help you out.
Making your Data Portable
You can choose from a number of great data sync services that will backup and sync specific folders and files on your computer to the web. Here are a few that I have tried and would recommend. (Most give you 2 gigs for free, then have various paid programs for more storage.)+
DropBox – This is my personal favorite tool for syncing files between computers. See how to use DropBox. (Supports Windows, Mac, and Linux)
SugarSync – Does a really nice job of syncing files across multiple computers and phones. (Currently no Linux support)
Box.net – Similar service, but they only give 1 free gig of storage.
Microsoft Live – Microsoft's version of sync tool. (Windows and Mac compatible)
MobileMe – Sync Email, Contacts, Calendar, photos, and data betweeen Macs, PCs, and iPhones. ($99/year is expensive, but it does work nice.)
Windows SyncToy – Windows only tool that will keep folders in sync on multiple devices (phones, usb drives, share drives etc.)
Ubuntu One – Linux users have a service of their very own. 2 gigs free, plus paid options.
Roll your own – If you have a web hosting service for your web site, you are probably only using a fraction of the available storage available to you. You can backup/sync data from your machines to this drive so that it is available from everywhere. Follow these steps to set this up:
Create a destination folder on your web hosting server.
If you are on someone else's computer, you can just navigate to the folder on your web site, log in, and access your files. (I do this from my iPhone and my parents' computer all the time.)
Use Web Applications to Create your Data in the Cloud
One of the best ways to have all of your stuff available from anywhere is to use as many web based application as possible. If you create information right in the cloud, you don't have to worry about getting it there in the first place. You can create everything from office documents to audio and video using web services. Here are some of the most useful ones that I have found:
Office / Productivity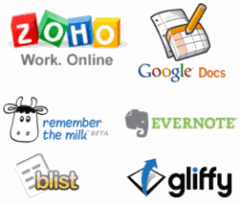 Google Docs – Create word processing, spreadsheets, and presentations all in your browser. You can share files and have multiple people update them in real-time. This is such a collaboration booster. Plus you can load all of your desktop files into your Google Docs account and export the online ones into a zip file and download them all at once. That's pretty convenient.
Zoho Applications – Works pretty similar to Google Docs, with tons of other applications too (email, notebook, wiki, web conferencing, etc.). They have a great integrated interface that makes it feel like you are using a well polished set of desktop applications. Plus, they are integrating with other web services all the time.
RememberTheMilk – This is an awesome To-Do list tool. It is dead simple and you can have your to-do's show up on your Google Calendar. See why I love RememberTheMilk so much.
Evernote – This is the best "capture everything" note taking tool that I have seen. Use it from your desktop, the web, or your phone. If you see something you like, make a note with text, your voice, video, or a photo. I always take pictures of the whiteboard at the end of a meeting from my iPhone. It just syncs right to my desktop before I'm even back at my desk. People love it when you attach it to the meeting minutes. See how Evernote can help you remember everything.
Dial2Do – This is one of the coolest services that I can think of. You set up the services that you use (SMS, Calendar, Notes, Email, Twitter, etc) on your account. Then, when you want to make an update to them, just dial the number that they provide and speak your tasks into the phone. Example: Call your Dial2Do phone number, Say "Twitter", then speak your update. Bam, your voice is converted to text and your Twitter status is updated. See how you can create your own secretary with Dial2Do.
Calander – Pick any good web based calendar system (Google, Yahoo, 30 Boxes, etc.) and use it. If you have a desktop calendar tool like Outlook or Lotus Notes, you can sync them with each other and your phone to have a truly up-to-date schedule.
Contacts – Same as the calendar, use a web based contact management tool to have your contacts available all the time.
Keep your calendar and contacts in sync between your desktop and the web with Plaxo's syncinc service.
Communication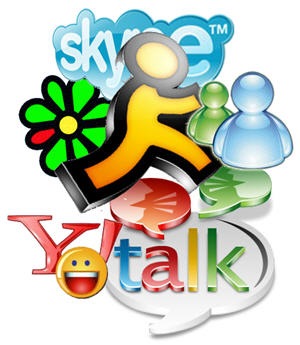 Email – I had a very hard time leaving Microsoft Outlook and moving to a full web-based email system. I think that getting an iPhone and a Mac helped push me into the pool. I love being able to have all of my email in sync on my computers, phone, and the web. If you have to use a desktop client, you can still read your Gmail through it and keep it on the web server by using IMAP email delivery. (I love Gmail, but Yahoo and many others offer great web-based email services.)
Skype – Why burn a hole in your pocket using your land line or cell phone when you can call with Skype? Plus, your landline can't do video conferencing with three other people. See how to get even more from Skype using extensions.
Google Voice – Did you ever wish you had a sophisticated phone service? You know, screening and forwarding your calls, different ring tones and messages for each caller, sending your calls to wherever you are (Work, Home, Mobile), transcribing your voicemail to text and emailing it to you. That's Google Voice. This service is awesome.
Multi-Protocol Instant Messenger – Do you have friends that you IM with who are on AOL, Yahoo, Skype, Facebook, MySpace, etc? It's a pain trying to log in and out of all of those services to keep up with everyone. That's why you need a multi-protocol tool that will log you into everything all from one interface. There are a number of options available for each operating system. Here are a few of my favorites: Pidgin (Windows / Linux) Digsby (Windows) Trillian (Windows) Adium (Mac). If you bounce around from multiple operating systems, try the web-based Meebo. You can log in from anywhere. Here is information on even more IM tools.
Connect your Desktop Applications with your Web Services
I still love using Microsoft Office and some other desktop applications to create files. This doesn't stop me from using my online files. Many web services have API's that allow you to integrate with traditional desktop applications to create and edit files.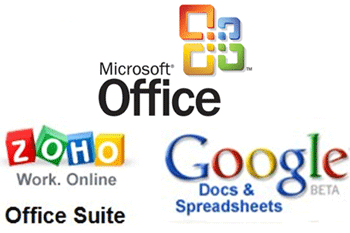 Microsoft Office – Save local documents to the web or open web documents on your local machine.
Google Docs – You can use OffiSync to connect MS Office (2003 or 2007) with your Google Docs files. Here's how it works.
Zoho Applications – "Zoho Plug-in for Microsoft Office" enables you to work offline on their documents and spreadsheets with Microsoft Word/Excel and have these changes reflected directly in your Zoho account.
Sync your desktop Calendar and Contacts
Plaxo – Sync your Windows or Mac desktop apps with your web contacts and calendars (Google, Yahoo, Microsoft, AOL, etc.)
Google Sync for Mobile Phones – Get your Google contacts and calendar quickly and easily to your phone. With Sync, you can have access to your address book at anytime and place that you need it. Using your phone's native calendar, you can now access your Google calendar, and be alerted for upcoming appointments with sound or vibration.
Keep all of your Browsers in Sync – You can keep all of your bookmarks, history, passwords, extensions in sync across all of your machines using Xmarks. Just install Xmarks on each computer you use, and it seamlessly integrates with your web browser and keeps your bookmarks in sync. Works on Firefox, Safari, Internet Explorer, and Chrome. (Sorry, no Opera support.)
If you want to have your favorites available everywhere, use a Delicious plugin in your browsers and all of your bookmarks will be available on the web.
Put your Music and Pictures in the Cloud
Last.FM – Install the Last.FM plugin to your favorite music player and have all of your listening history and ratings transferred to your web account. Then, you can log in to Last.Fm on any computer and listen to your music over the web.
Picasa – After you load your new pictures to your computer, you can easily upload them right to your Picasa account where they are available for the world to see.
ORB – Your music – at the office, in the hotel, at the Wi-Fi hotspot. When you have Orb on your PC: You can stream music to your laptop. Select songs, make playlists, right from the laptop. ALL your music is available (and internet radio, podcasts, and videos). This is a really cool service.
Access and Control Your Computers Remotely
Even after you take as many of the previously listed steps as humanly possible, sometimes you just need to do something on your other computer. Luckily, there are a ton of options that will let you remote control your computer from another machine (or even your phone).
VNC – You can use free, open source software called VNC (Virtual Network Computing) to do just that. VNC software consists of two parts: the Server, which sits on the machine that will be controlled remotely and the Viewer, which another computer uses to control the first machine. See how to use VNC to remote control your computer.
RDP – RDP is built into Window machines and it allows another user (think help desk) to remotely control your computer. You can use this to remote control your computer from somewhere else.
LogMeIn – LogMeIn Free gives you remote control of your PC or Mac from any other computer with an Internet connection.
Portable Applications
When in doubt, take your favorite software with you. You can load numerous free and useful applications onto a USB drive and take a solid computing environment that can be used on any PC on the road. See how to run portable applications from a USB drive.
What's Your Best Tip?
These are a bunch of my ideas, but I'm sure that there are plenty of other good ones out there. Please add your best tips in the comments below.
Get More Updates
See some of the other places where you can connect with me out there in the wilds of the internets.