Build a USB Rescue Drive with Free Portable Utilities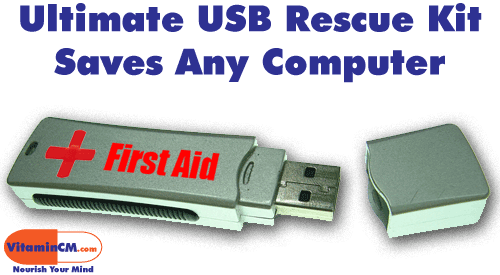 OVERVIEW: This video tutorial shows how to set up a collection of portable apps on a USB drive that can be used to diagnose and repair almost any broken windows computer.
The Difference Between Men and Monkeys is Tools
During the holidays I typically spend a great deal of time travelling to see freinds and relatives. As you may have guessed, I frequently get asked to "fix" everybody's jacked up computers. When I'm not at home with all of my resources, it's pretty hard to figure out what's wrong and even harder to fix it. What if thier internet connection is down? There goes just about all of the things that you can download to fix any problems. These are the sort of catch 22's that I'm usually up against.
Since I'm not about to carry my laptop and a bunch of other junk to a New Year's Eve party, I decided to build myself a portable USB Rescue Kit that takes up no space in my pocket. Now, next time I get asked for help, I can spring into action, diagnose, and fix thier PCs in time to see the big ball drop. If you're the "computer guy or gal" in your family, you can prepare yourself to handle these situations by investing about $10 and 30 minutes of your time building your own kit.
How to Set Up Portable Apps on a USB Drive
Here is a tutorial for loading portable apps on a usb drive that I wrote a while ago. It walks you through the process of setting up a portable application suite on a USB drive.


More DIY videos at 5min.com
More DIY videos at 5min.com
What Apps to Load on Your Rescue Drive
Now that you know how to set up your USB drive, you need to know which applications and utilities that you want to have in your arsenal.
I set myself up with the following applications (in no special order):
Antivirus (ClamWin)
Disk Defragmenter (JKDefrag and Defraggler)
Archive Tool (7zip)
FTP Tool (Filezilla, Putty, WinSCP)
Remote Access Tools (VNC, RDP)
CD / Disk Imaging Tools (InfraRecorder)
Screenshot / Screen recorder – (Lightscreen and VTuteRecorder)
Spyware Remover – (SpyDLLRemover and RootKitRevealer)
Password Manager – (KeyPass)
System Cleaner – (CCleaner and Revo Uninstaller and PC Decrapifier)
Registry Tools – (Wise Registry Cleaner and Dial-A-Fix)
Media Player (VNC and K-Lite Codec tool)
PDF Tools (Foxit and PDFTKBuilder)
Software Serial Numbers (ProdUKey)
Communications – (Skype and Pidgin IM)
Startup Management – (Startup Manager and CCleaner)
Wi-Fi – (WirelessKeyFinder)
Plus any Office, Internet, and Graphics tools that you may think you need.
ReadWriteWeb recommends a good list of portable apps and utilities that you can use to repair a computer. A Computer Repair Utility Kit You Can Run From a Thumb Drive (Just about all of them are included in my build.)
Where to Get Good Portable Apps
There are a few great sites that have all of the applications on this list and plenty of others.
PortableApps.com has a great suite of applications and a very nice launcher tool that basically makes your portable suite into its own operating system.
LiberKey.com has a 270+ applications in their extensive catalog. If you can't find the right tool here, it probably doesn't exist.
PenDriveApps.com has a large, albeit poorly organized collection of useful application and utilities.
LupoPenSuite.com has a collection that combines dozens of USB and Web-Based apps that can perform typical productivity, media, and maintenance activities.
Video Tutorial for Building a USB Recue Kit
The following video will show you how to install and configure your USB Rescue Kit.
What to do After Everything is Fixed
After you get that nasty mess cleaned up, you may want to do a little preventative maintenance. Set up this newly healthy machine with a few good tools:
Antivirus Protection (AVG or Avast)
A Good Browser (Firefox, Chrome, or Opera)
Malware Protection (Spybot Search and Destroy, Malwarebytes, Microsoft Security Essentials)
PDF Tools (Foixt Reader and CutePDF  Writer)
Safe P2P Downloading (uTorrent and eMule)
Zip Tool (7zip)
System Cleaner (CCleaner)
VNC Server (RealVNC so that you can connect to their machine and fix it later)
Before you balk at how much time this will take to set up, there is a great tool that will make this take just a few minutes. Ninite.com allows you to create a "batch installer" that will download and install dozens of great free applications in just a few clicks.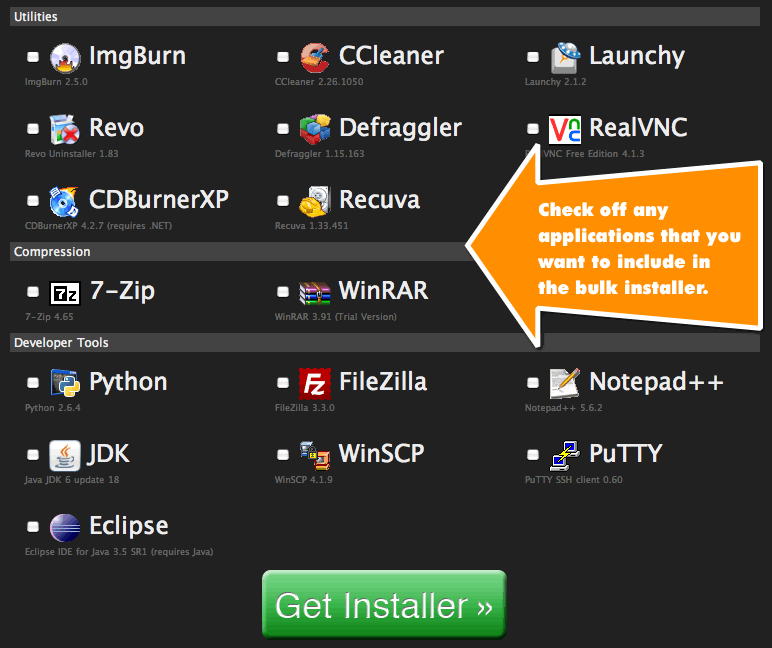 Set yourself up with a bulk installer of recommended applications and keep that on your USB drive to install once your done. Since they download the actual files at the time of installation the files will take up less than 200K on your drive.
Subscribe for Free Updates
Get More Updates
See some of the other places where you can connect with me out there in the wilds of the internets.