Always Have Your Important Files
Overview: Learn how to keep your files in sync across multiple computers with this Dropbox Tutorial.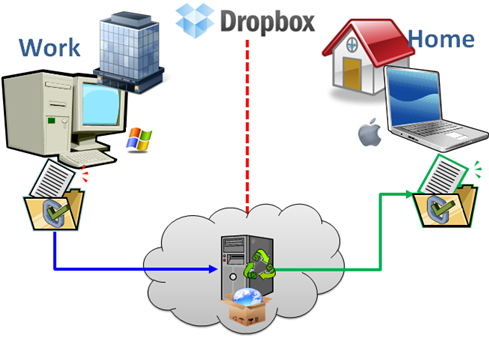 Do you work on multiple computers during the day? Perhaps one at work and one at home? Maybe one is a Mac and another is a PC? Well there are a lot of files that you may create or update on one machine that you suddenly need on the other. Sure, you could use a USB drive, but that is very manual and error prone.
If you need to have a common collection of files that are synchronized and instantly available everywhere, you should use Dropbox – Secure online file sync. DropBox is a service that allows you to sync files between multiple computers via their servers.
I have a few computers in my house: A windows desktop in my Office, Windows laptop downstairs, a Linux Laptop in our Bedroom (My Wife's) and a new MacBook Pro where I do most of my writing now. I have some files on my old Windows desktop and laptop that I need on my MacBook and newly created files that I want back on my PCs. The other problem is that I need to work with certain Windows or Mac only apps at different times. This allows me to move all of the files that I need back and forth to the machine where I need to work in "real-time".
If I do a Screencast on my PC, I just put it into my DropBox and upload it from my Mac when I'm ready. If I make something in iMovie on my Mac, I just drop it in and open it on my PC later.
What exactly is Dropbox?
This is how DropBox describes their service:
Dropbox is the easiest way to share and store your files online.
Works like you do
No complicated interface to learn. Dropbox runs in the background on your desktop.
Worry-free syncing
Sync your files automatically to your computers and the web.
It's everywhere you are
Sign in and access your files from any browser or mobile device.
Easy sharing
Sharing files with your friends and family is just two clicks away.
Photos
View your photos in a gallery and share them easily with anyone.
How to Use DropBox
The entire process is incredibly quick and simple.
Create an Account on www.DropBox.com

Download and Install the DropBox software on your computer.
Select a location for your DropBox folder. (I use the Desktop)
Move the desired files/folders into your DropBox.
Wait for blue arrow icons to stop spinning and turn into a green check icon.
Move any desired files/folders from your other computer(s) into your DropBox.
Repeat steps 3 through 5 on all of your computers.
There is a free account which limits your DropBox capacity to 2 gigs. You can add more capacity incrementally with a paid account.
Sharing Files via DropBox:
You can share your DropBox with other DropBox users via your "shared" folder.
Log in to your DropBox account on their site
Click on the Share tab at the top of the page
Give the share a name
Enter the email addres(es) of the people you are sharing with
Go back to your File Manager and drag files into the "share" folder
The recipients will receive an email allowing them to access the the shared files
You can delete the "share" when you want to stop sharing
This is very convenient if you're working with a client or coordinating on a project with a colleague, client, or friend.
See How to Use DropBox in this Video
Use DropBox to Sync Your Virtual Machine
Conlclusion:
I use DropBox every day on both of my computers at home. This is about the simplest way to synchronize files between your computers, no matter which Operating System(s) you use.
Note: May not work behind some firewalls.
The past few articles have covered using some web/computer based productivity tools. Stay tuned for the next article where I show you how to extend these systems by using your phone and Dial2Do to get things done.
Did you Like this Article?
Sign up for free updates from VitaminCM.com?
See some of the other places where you can connect with me out there in the wilds of the internets.
Get More Updates
See some of the other places where you can connect with me out there in the wilds of the internets.