Bring Your Favorite Software, Files, and Settings with You on a USB Drive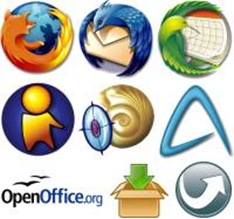 GOAL: Provide a list of Portable Applications that you can run on any PC and feel like you never left home.
Do you use multiple computers on a regular basis? Do you go from home, to work, to friends, and relative's houses where you can never guarantee that the applications that you need are available? Well, you need a USB flash drive loaded with Portable Applications.
You can load numerous free and useful applications onto a USB drive and take a solid computing environment that can be used on any PC on the road. I used to get frustrated when I visited my parents or in-laws houses, because their computers were not set up with what I needed to waste time get things done. Now, I just pull out my portable computing environment get to work.
What you can do with Portable Applications
Here are some of the things that you can do with a pocket full of your favorite portable applications:
· Bring your office applications, e-mail, web browser, instant messaging software with you to run from any PC
· Carry your favorite computer programs along with all of your bookmarks, settings, email and more with you
· Help out friends and family when they run into problems with their PCs
· Use them on any Windows computer.
· Never leave any personal data behind
Where You Can Get Portable Applications
PortableApps.com
Portableapps has a small, but very useful collection of applications. They have a simple setup procedure and a nice launcher that works with their apps and other portable apps.
Installing the PortableApps Suite on your USB Drive:
1. Download the Portable Apps Suite file.
2. Move the file to the root directory of your USB drive.
3. Double Click the file to install it to the USB drive.
4. You're Done!
Even though they have less applications, Portable Apps is where you should start your PC on a Stick setup.
Keep up to date.
All three of these sites are not just software repositories; they are blogs that you can subscribe to if you want to be informed on important news and updates.
PortableFreeware.com
Portablefreeware.com has a constantly updated directory of portable applications. They have a lot of applications that are not on some of the other sites. Most of the applications here will work fine with the PortableApps launcher.
PendriveApps.com
Pendriveapps.com also has a lot of applications as well as instructions on how you can make other applications portable. If you want to set up a portable Web Server they have several options. Again, their apps will usually all play nice with the Portable Apps launcher.
Portable Mac Goodness
So far, all of the resources have been Windows only. Well, the last thing that I want to do is piss off the Mac users.
Freesmug.org has a great collection of portable applications that will allow you to take your Mac magic on the road.
Uses for Portable Apps and Typical Setup Profiles
Once you install the PortableApps suite, there are several different uses for your PC on a stick. I created a few profiles below, along with a link to all of the applications that you'll need.
Rescue Drive
Be the wandering IT guy for your friends, and family. Carry everything that you'll need to reverse the damage that they've done to themselves.
You will probably need some combination of the following apps:
Antivirus, Spyware Remover, System Cleanup, Disk Defragmenter, Password Recovery Tool, Registry Repair, and System Configuration Tools.
Get the collection here.
Now, when you get asked, "Can you fix my computer?" you actually have what you need.
Remote Worker
Be prepared to get some work done from anywhere. If you get stuck at someone's house, or on vacation, you can get just about anything done.
You will probably need some combination of the following apps:
Email Program (Thunderbird), Calendar (Sunbird), MS Office Replacement (Open Office), PDF Reader (Foxit), Browser (Firefox), Instant Messaging (Pidgin), Text Editor (Notepad ++).
Get the collection here.
These apps might not be the same as what you use at work, but they should be able to perform 95% of the typical day-to-day productivity tasks.
Web Developer
If you need to be able to do some work your website while on the go, you can make do with these applications.
Full-blown web server (XAMPP), Super powered text editor (Notepad ++), Web Editor (KompoZer), FTP client (Filezilla), Browser (Firefox), Graphics editor (GIMP), Zip utility (7zip)
Get the collection here.
No, it's not Dreamweaver, and Photoshop, but you can definitely do some serious work until you get back to your lair.
Instructions on Setting up your XAMPP server.
Great list of Firefox Extensions for Web Developers. (This will make up for some of the applications that you left at the office.)
Workplace Slacker
If your office is like mine, the computers are all locked down and don't allow you to install and fun/useful software. Well, now you can bring a bunch of contraband into the office to goof off relieve stress.
You won't find this stuff on your corporate pc:
Instant Messaging (Pidgin), Peer2Peer and Bit torrent (uTorrent), Anonymous web browsing (Tor Park), Games, and more
Get the collection here.
That should help you fill up those Fridays that your boss takes off.
Video Instructions
Here are step-by-step video instructions for setting up your computer on a stick.
Operating Systems
If carrying all of your applications around just isn't hardcore enough, you can actually stick full operating systems in your pocket.
Linux
If it has a few megs of storage and a port, those Linux guys will figure out how to hack some obscure distribution of Linux onto it.
PendriveLinux.com is a sister site to PendriveApps.com. They have tons of Linux distributions and applications that can all run from a USB drive.
Mac
You can run the Mac OS version 7.0.1 (yes those are numbers, not cat names) using Mac on a Stick. This will run on a Windows PC using an emulator.
If you have an old iPod, you can duplicate your entire working environment and bring it along using Mojopac.
Here is their explanation of how it works.
MojoPac is a technology that transforms your iPod or USB Hard Drive or Flash drive into a portable and private PC. Just install MojoPac on any USB 2.0 compliant storage device, upload your applications and files, modify your user settings and environment preferences, and take it with you everywhere.

Every time you plug your MojoPac-enabled device into any Windows XP PC , MojoPac automatically launches your environment on the host PC. Your communications, music, games, applications, and files are all local and accessible. And when you unplug the MojoPac device, no trace is left behind – your information is not cached on the host PC.
I have an old 40 gig, third generation iPod that I am going to try this on.
Other Resources
Wikipedia has a detailed article on Portable Apps including popular providers and uses.
Lifehacker has several good articles on cool applications and other things that you can bring on the road.
Want to Read More Articles Like This
Become a Subscriber

Subscribe to RSS Feed |

Subscribe via Email |

Comments
Get More Updates
See some of the other places where you can connect with me out there in the wilds of the internets.